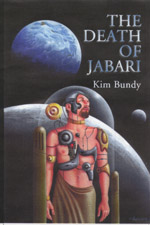 The Death of Jabari
ISBN: 0-595-166024-7
304 pages. 6X9 Trade Paperback
$14.95 plus shipping About the author
Come, allow me to take you to a wondrous place. A planet with two moons and an origin of destruction. Let me speak my twin tales of Ryung. Two stories of a race against time through sabotage and possession; cloning and mutation; death and rebirth; magic and technology; a prophesy manipulated and ending with the fate of a world.
Six gods working against one of their own while the one man whose body is the conduit for all magic lays dying and with him the world of Ryung.
Four inhabitants, unaware of the truths of their world's creation, seek to fulfill a prophetic message. Katja, a beautiful buccaneer; Tulaan, Mutiger priest sent on a quest; and Elingor, the mage-son of a forgotten god are joined by Rocky, a Muavian of dubious talents. One of them becomes the pawn of the traitor god, one dies and the last will become the savior of the world...if they reach Jabari in time.
Coming soon: Tie-in Fiction, The World of Ryung. Read an excerpt from The Death of Jabari
Cover art by Debbie Hughes Upcoming Author Appearances Read Reviews
Now available from Cafepress.com! Coffee mugs in two sizes, mousepads and t-shirts featuring the gorgeous cover art on The Death of Jabari. Click here to see them.
This book is featured at:

One of the largest collections of science fiction in the world.
JumpNJupiter.com carrotwriter

Twilight Times

The Internet Public Library Unhinged Online Booking Expressive
For online Credit Card orders, this novel is available from the following:
Barnes and Noble.com Page One Books
To order by check or money order, go to:
Basement Books at SFF.net
Or send a check/money order for $14.95 plus $4.00 shipping to:
Bundy Books
6326 East Livingston Ave. #186
Reynoldsburg, OH 430068-2950